Welcome back to What's Distilling. This week we start with a Victorian Rye of Goodness from The Gospel. We succumb to a Phantasmatic Rum, then scream for tequila. Finally, we finish with a Gin in pure French elegance.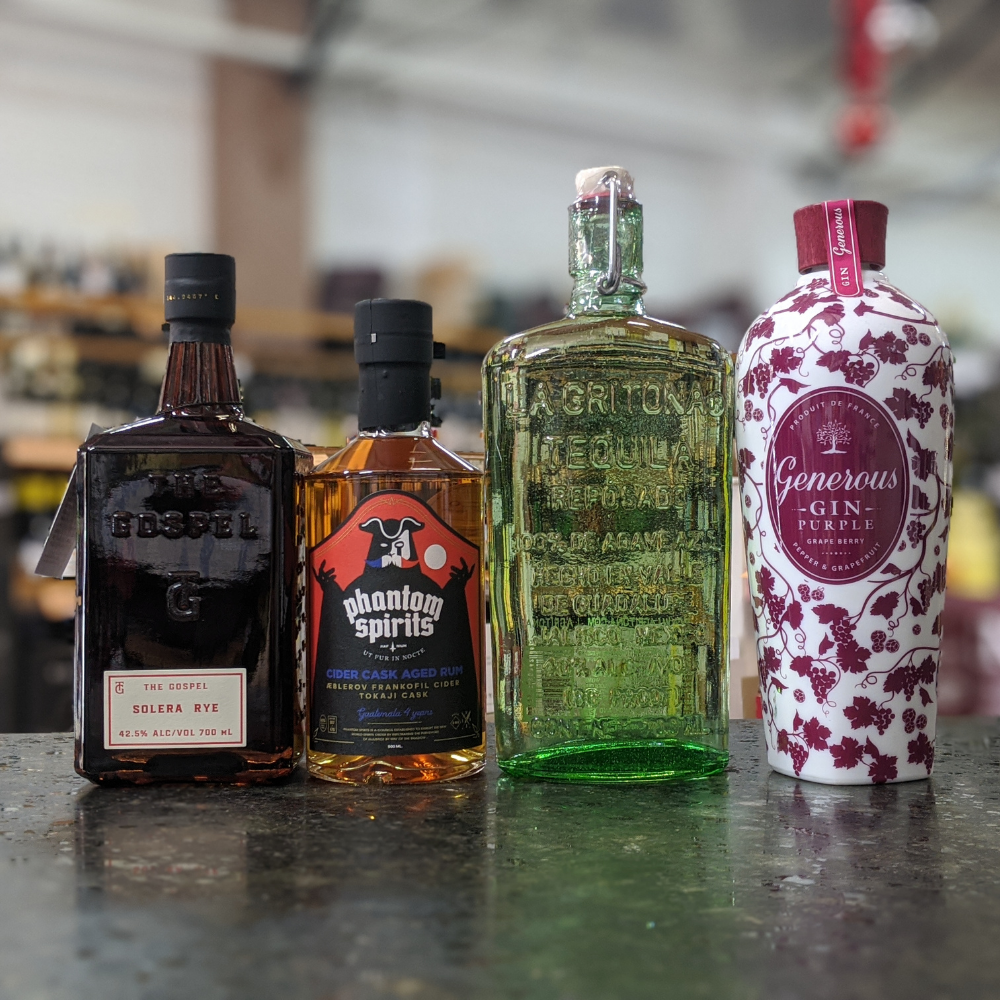 The Gospel Solera Rye
We love local spirits – just look at the literally hundreds of craft gins we consistently succeed to fit on the shelves (a never ending Tetris game really). So you can imagine our excitement at being able to access this beautiful 100% rye, blended solera-style using American bourbon and Aussie red wine barrels. It's spicy and chocolatey, with notes of caramel, apple, and fresh mint. Time to level up your spirit cabinet!
Phantom Spirits Æblerov Cider Tokaji Cask Rum
To call Phantom Spirits' barrel-ageing program pioneering would be a gross understatement. This barrel first housed Hungarian dessert wine Tokaji (the namesake of Rutherglen's very own), before being the star of a Æblerov cider. The combined flavours imparted on the barrels are evident in the resulting rum, with rich apple and a gentle caramel note.
Don't be surprised if this game of pass-the-parcel continues with a rum-cider-tokaji barrel aged beer – we're looking at you Mikkeller (who have donated a couple of beer barrels to the Phantom cause if you're curious about some of their other rums…)
La Gritona Reposado Tequila
La Gritona is Spanish 'the screamer' – the name probably comes from co-founder, LA-based punk guitarist Andy Coronado. Melly Cárdenas is in charge of the distillery, and leads an all-female team to produce a fiercely savoury tequila with a deep roasty flavour, hints of saline and spice, and a delicate pineapple and coconut finish. It's fresh and pure – a world away from some large-batch syrupy reposados on the market, and all the better for it.
PRE-ORDER Generous 'Purple' Pepper & Grapefruit Gin
The French have always been a sophisticated bunch, and that's absolutely on show here. A juniper-heavy gin with a seductive pink grapefruit perfume and peppery spice through the middle, enhanced with the inclusion of grape must to give it a brilliant colour and a lick of tannin to create a sense of texture and structure which will take your G&Ts and cocktails to the next level. Pre-order yours now!!
The Purple Gin will be available from Tuesday November 24th. In the meantime, you can try their regular or organic available in-store.
Something else…
Cherries in Ole Smoky Tennessee Moonshine
If you ever made vodka gummi bears as a teenager, it's time for the adult version. The highest quality maraschino cherries are steeped in their White Lightning moonshine, creating the world's most dangerous snack, most delectable elixir, or most wicked cocktail garnish (if you were to, completely hypothetically of course, make a Gospel Solera Rye Old Fashioned…)
Distillate regards,
Jack