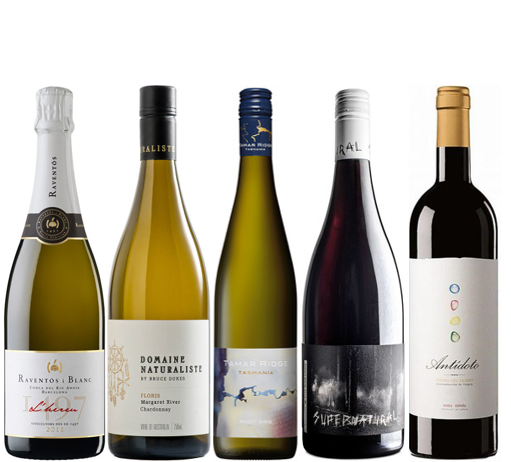 Raventos i Blanc L'Hereu Blanc de Blancs 2016
Since we had it on tasting a couple of weeks ago, we are very eager to open another bottle of this delicious Blanc de Blancs. Made by the iconic Penedes producer Raventos and its quality 90hectares family-owned winery in Sant Sadurní d'Anoia. Despite vinifying the traditional varietals (60% Macabeo, 20% Xarel-lo and 20% Parellada) used for Cava production, Raventos doesn't make Cava as such. Indeed, they decided to quit the Cava DO a few years ago, a big bold move which they deemed necessary in order to produce wines with a more modern representation of the local sparkling production.
Domaine Naturaliste Floris Chardonnay 2017
For those of you who didn't follow our IG stories from last Sunday: the Decanters crew went on a journey up Woodend/Kyneton way. We had the pleasure to eat at Kuzu where succulent dishes were paired with equally mouth-watering wines, including this superb Margaret River drop. It is a modern Western Australian style with restricted malo‐lactic fermentation, fortnightly battonage (adding complexity and texture), yet retaining purity of character and freshness.
Consequently, we ordered some on Monday!
Tamar Ridge Pinot Gris 2017
This Tasmanian Pinot Gris is such a crowd-pleaser. If you are not sure what your host/guest or even yourself feel like, give it a try! It has very delicate aromas of pear skin, stone fruits and lychee, carried through the palate, as well as some lovely nuttiness and texture coming from its time on lees. A quality all-rounder.
Ghost Rock Supernatural Pinot Noir 2018
Made by the great Tassie team at Ghost Rock, this new project is a generous, spicy, juicy and super friendly Pinot Noir.
We renamed it Tasmanian Casper.
Hernando y Sourdais Antidoto Tinto Fino 2015
Gathered from hundreds of tiny parcels in the pueblos around San Esteban de Gormaz, Antitodo is the produce of 120-year-old dry-grown and very low-yielding bush vines. Different soils are vinified separately and then blended before barrel ageing.
"A very well organised wine", Antidoto features blackberry fruit, ink and graphite, tobacco and earth in a typical but very calm Ribera del Duero nose. The sense of reserve and harmony continue on a gently rounded, deft palate. Bramble, spice and red florals lead, choc-cherry-game and gently earthy back notes follow. Gentle traces of old-vine heartwood (clove, pepper husk and mace) run through the nose and palate, dangling and wandering, expressing harmoniously through the delicately handled, barely extracted juice. Antidoto is not heroic winemaking, it's a poem. Understated, understood."

Bertrand Sourdais
VKL