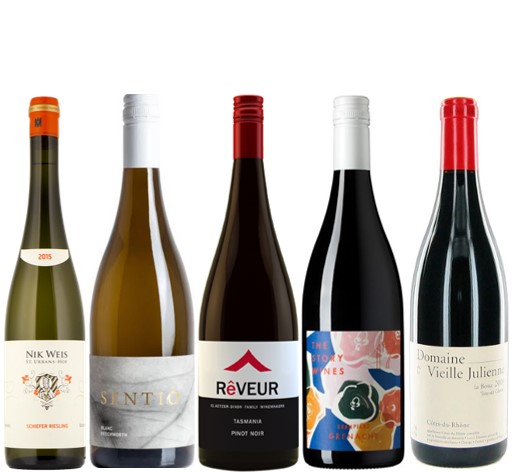 Nik Weis St. Urbans-Hof Riesling 2016
A traditional old-world approach with a modern twist! Hypnotic website too. 'Con natura – no invicem', with nature and not against it, is the motto of winemaker and proprietor Nik Weis from St. Urbans-Hof, when he speaks about both his wines and philosophy. His mission is to recultivate some of the oldest vineyards in the region, restoring these gems and bringing them back to their former glory to let each special terroirs shine through. We certainly love these awesome German Riesling with a sensitive price point.
Sentio Blanc 2017
We're all friends with a few "non-Chardonnay drinkers". This blend is your secret weapon to entice them to drink Chardonnay, enjoy it and stop the 'Anything But Chardonnay' movement once and for all! Honestly, this blend has everything; Chardonnay, Savagnin, Arneis etc… it has the texture and linearity of a Chardonnay and yet beautiful unusual aromatics coming from the other varietals. We would love to try this one with a freshly caught snapper (from the Bay if you dare!)
Glaetzer Dixon Reveur Pinot Noir 2014
Only one 6pk left before vintage rolls. Even though 2015 is looking great; voluptuous, plush and fruit junky, we love the slight savouriness and austerity provided by 2014. Probably because it is more of a Burgundian style, and Burgundy is the best place of Earth
… Anyway… you should definitively give it a try!
The Story Wines Grenache 2017
There is a Grenache revolution in Australia, and you would be a fool not to partake in it! Nowadays, there are just so many great examples coming from our different wine regions. This one from the Story Wines is their first attempt using Grampians fruits. It displays amazing fruit, spices and herbal profiles; juicy and moreish. Good levels of tannins complement the medium levels of acidity beautifully. Viva la Garnacha revolution!
Domaine de la Vieille Julienne Cote du Rhone 2016
With Jean-Paul Daumen's iconic vineyards in Châteauneuf-du-Pape, it is no surprise that this Cotes-du-Rhône transcends its humble designation with power and purity rarely seen. Organic and biodynamic approaches, minimal intervention and a great love for the terroir have always displayed the essence of Vieille Julienne. Just enough funk to convert some traditional drinkers to more "natural" wines without going too overboard.
VKL