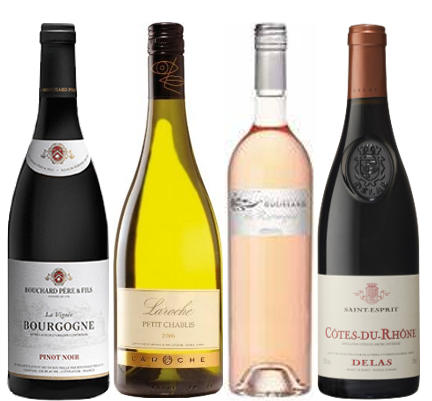 Bouchard Père-et-Fils Bourgogne Rouge "La Vignée" 2017
You can find all the quintessential notes of a red Burgundy: fresh and vibrant red fruits completed by some dried cooking herbs and finished by a classic earthy savouriness. A delicate and elegant example of what 2017 Burgundian reds have to offer made by a model producer.
(Without breaking the bank)
Domaine Laroche Petit Chablis 2016
All the green apple, lemon, white blossom, and struck match we've come to expect from all the best Petit Chablis!
Fleshy in the middle, zingy at the end – bring on the seafood platter..
Les vignobles de Gueissard "Les Restanques" Bandol Rosé 2016
45% Mourvèdre 35% Cinsault and 20% Grenache. A serious "food Rosé"! Providing all the desired dryness of Provence, yet with Bandol's specific palate texture; this Rosé is flavour packed and will pair beautifully with some trout croquettes & remoulade sauce.
Delas Frères Côtes du Rhône "Saint Esprit" 2017
Another French wine! Oops I did it again. It is always interesting to refresh our palates on the wines of one of the largest producers in the Rhône Valley. This Saint-Esprit is mainly Syrah with a bit of Grenache to flesh it up! Textbook Côtes du Rhône Rouge notes with Blackberry, inky, violets, plums, licorice and baking spices. With its delicate tannins, this is perfect for enjoying now!
VKL