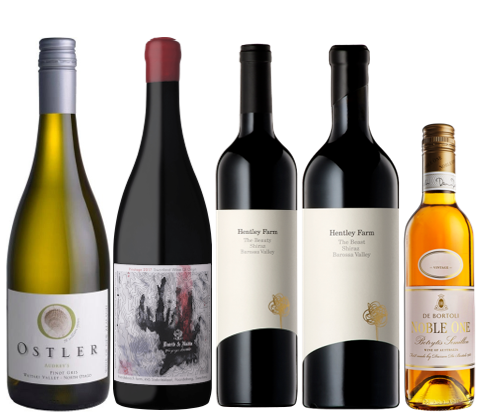 Ostler Audrey's Pinot Gris 2014
If the word ambivalent was a varietal it would be Pinot Gris. So many dull examples around and sometimes easy to forget. It's a Russian roulette of flavours, and Ostler was the flavour bullet we were desperate to get in Pinot Gris. There is a lot happening in a glass of this perfect example of premium New Zealand Pinot Gris.
David & Nadia Pinotage 2016
This Pinotage is a love potion, bewitching all who encounter it. It's deeply perfumed, with floral aromatics and bright fruit leaping out of the glass, followed by a brooding gamey note. Red and black fruits, rose petals, Turkish delight, spice, mint, and tobacco come through in an ethereally fleshy palate with fine tannins.
One of our best find of the year!
Hentley Farm The Beauty 2016
Spring is making us feel a tad romantic. Time to revisit a Classic: The Beauty & The Beast.
From down under! The Beauty is an elegant and subtle Shiraz lifted by a magical touch of Viognier. Pretty blue and red fruit, focused acidity; this is a soft, expressive and complex example from cooler Barossa vineyards.
Hentley Farm The Beast 2016
As its name states, you can expect a more robust and powerful Shiraz. In addition to its rich fruits combined with an array of spices and dark chocolate (think Christmas pudding..), the tannins profile is what makes the Beast so unique. Gaston approved.
De Bortoli Noble
Can we make September 4th a general appreciation day for sweet wines? In all seriousness, a glass of late harvest/botrytis with a (big) slice of blue cheese is the best pairing ever thought of. Hail to dessert wines, always in place in Decanters' hearts.
VKL