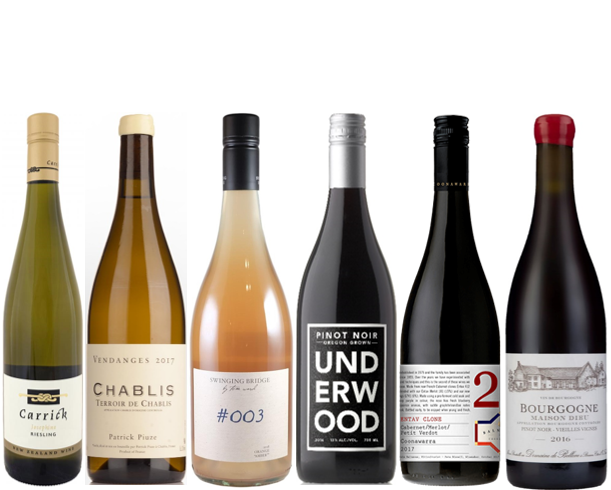 Carrick Bannockburn Riesling 2015
Recommended by one of our awesome customers; this New Zealand Riesling may convince you to join the off-dry side.
Perfect with spicy food chilling in the Emperor's Throne Room.
Underwood Pinot Noir 2017
Have you ever tried an American Pinot Noir? Well… Underwood is about to change this! Oregon's best value for money Pinot Noir; with a light body, lifted raspberry and classic forest floor characteristics! With its high quaffability levels, it will be perfect whilst watching Portlandia.
Swinging Bridge #003 2019
An Orange wine from Orange
Mind blow.
Super new, super fresh, literally bottled (unfined and unfiltered) a couple of weeks ago, this will be the perfect Spring celebratory drink! A field blend of the Alsatian noble varieties Riesling, Pinot Gris and Gewürztraminer, all wild fermented and left four weeks on skins in open top puncheons, this has aromatics for days and very unique palate texture.
Patrick Piuze Chablis 2017
Rare are the producers still hand harvesting their Chardonnay, well Chablis rock star Patrick Piuze is one of them! The Canadian born and Chablis adopted produces amazing Chablis with a great sense of provenance. His 2017 Terrois de la Chapelle is ultra fresh and pretty, as the grapes never had direct contact with the sun!(rows planted east to west).
Amazing gateway Chardonnay
Balnaves Entav Clone Cab blend 2017
Another great red to drink now and not age (yeah!). Nose of fresh blueberry, blackberry and liquorice aromas, with subtle graphite and vanilla coming from the oak treatment. Why Entav you may ask?
ENTAV is an acronym for French organisation selecting, growing and testing the best clones out of France. Balnaves has a sole hectare of Entav 338, 412 Cabernet Sauvignon and Entav 181 Merlot used for this unique blend.
Domaine de Bellene Bourgogne Rouge VV Maison Dieu 2017
With a name like "House God", we can certainly hail to this brilliant Bourgogne Rouge from Domaine de Bellene. Produced from Bellene's old vines parcels, this Pinot Noir is light and vibrant on the palate, providing all the textbook fruits and earthy characteristics true to Burgundy's exceptional viticulture and vinification. As per usual with the old world; a couple more years in the cellar would be beneficial.
VKL