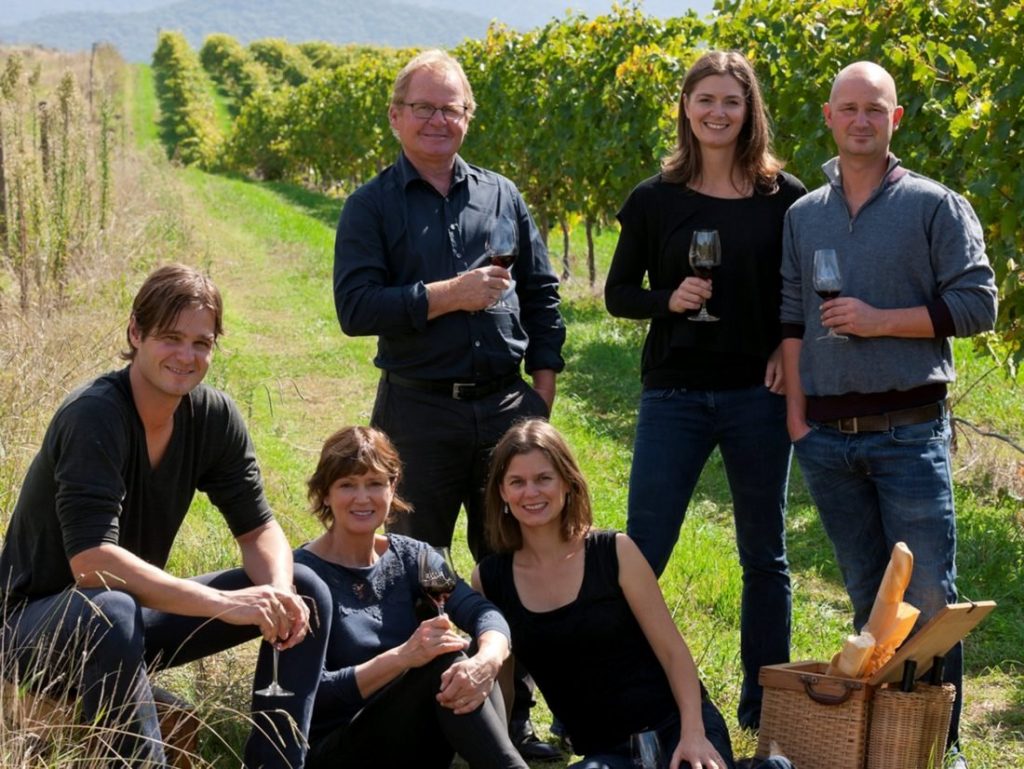 Pizzini couldn't be more a family business if it tried!
Alfredo and Katrina Pizzini built the Pizzini Empire following their passions and honouring their Italian heritage. Their winemaking dream began in 1978 when they planted their first vines in the ever-gorgeous King Valley.
In 1994 the first Pizzini labelled wines were released and since then we all have loved seeing the evolution of the wines. The business now involves also all four Pizzini children; Natalie, Joel, Carlo and Nicole.
We are family here
On tasting tomorrow with Carlo Pizzini
Whitlands Pinot grigio
This sits in contrast to the regular (tall bottle) Pinot Grigio in that it is vastly more savoury and complex. Aromas of green almond, dried wildflowers and pears on the nose give way to a palate that has layers of texture and flavour. There's plenty of varietal pear and a little almond too; twisting savoury and gently chalky to close.
Arneis
The nose shows plenty of mountain fresh fragrance with fresh-cut pear, some quince, sweet white floral perfume and the merest hints of citrus and fresh almond. The palate is crisp, dry and fresh, with pear and apple flavour sitting bright and crunchy from start to mouth-watering finish.
Pietra Rossa Sangiovese
Pietra Rossa is the new name for the well known Pizzini Sangiovese. Mouth-watering aromas include dark cherries, exotic spices, blood plums and cherries. As the wine opens up there are earthy, savoury, cigar box and leather tones, which follow onto the classic Sangiovese palate of vibrant cherry and plum flavours. It is juicy, fleshy and drinkable.
Barbera
The palate is rich and concentrated. Initial notes of cherries, spice, plums and wild berries make way for savoury and earthy characters. The subtle use of new oak helps to give the palate length with rounded, soft tannins and enhances the wines natural propensity of gentle acidity.
Canaiolo
Pronounced cahn-eye�oh-loh. We may have called it Canoli by mistake….sorry Carlo.
This varietal is traditionally grown in Tuscany and can be used to blend with Sangiovese to provide softness to a wine. Pizzini Canaiolo is ruby red in colour and has aromas of wild red berries, violets, plums and spices. The palate is generous and soft with flavours of cherries and plums and lovely textural tannins to finish.
VKL
Pictures & tasting notes credit to Pizzini©