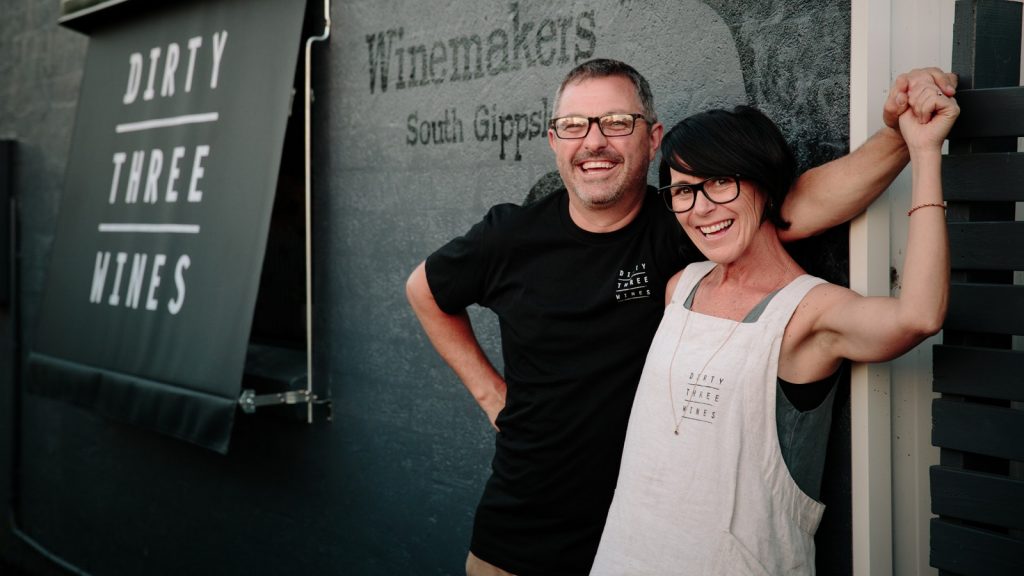 There's a lot of good Pinot around nowadays, and with the Yarra Valley and Mornington Peninsula on our doorstep, we're spoilt for choice with a constant stream of quality expressions walking through our doors.
In the meantime, the Gippsland wine region has been unassumingly going about its business, slowly building its reputation, to the point where it's now the home of some of the best drops going around (with icons like Bass Phillip). This is in no small part due to the work of Marcus & Lisa Satchell, the unofficial ambassadors for the area (and just about the coolest guys on Earth).
For Marcus and Lisa, it's all about Pinot (but gosh they do a good Riesling too). Across their three single-site premium Pinots, they are able to show the extraordinary impact of the varying terroirs of Gippsland. They keep their winemaking processes deadly simple and allow the variation in the soils to work their magic.
We're super excited to be one of the first to get access to the 2018 vintage, which by all accounts was a cracker vintage.
Dig in here.
On tasting tomorrow with maker, Marcus:
The Dirty Rizza Riesling
Inspired by the legendary Mosel region Rieslings of Germany, this is made in an off-dry style with classic high acidity. Utterly delicious and made in super small quantities – don't wait until Saturday!
All The Dirts Rose
Marcus' second vintage; made in a dry and crisp style from 80% Pinot Noir for its perfume, with some guts from the 20% Shiraz added.
All The Dirts Pinot Noir – To Friday!
A blend of the fruit from all of their (dirts) vineyards. Silky and perfumed, and plenty of cherry and raspberry fruit through the mid-palate. A drink now style.
Dirt 1 Pinot Noir – To drink
Grown in the red volcanic soil of their Berry's Creek vineyard, north of Leongatha. The high altitude of this site produces the lightest and most delicate of the Dirty Three range.
Dirt 2 Pinot Noir – To savour
Grown in the brown volcanic soil of their Tilson vineyard, on the outskirts of the Leongatha township. The wild one of the brunch, with just the right amount of funk.
Dirt 3 Pinot Noir – To keep
Grown in the sandy clay loam from their Holgates Road vineyard not far from Inverloch. By far the richest and most opulent expression, with serious power and complexity.
JM – VKL
Pix courtesy of visitmelbourne.com © & dirtythreewines ©