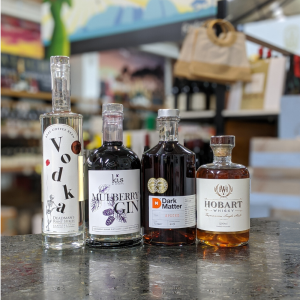 Hunnington Distillery 'Coffee Vodka'
Pure Vodka + Pure Coffee = Pure Weekend. To make Deadman's Point Spirit Coffee Vodka, Hunnington Distillery use a simple process: pure Tasmanian rainwater and organic cane sugar. The vodka is double distilled and charcoal filtered, before being distilled a third time but with time with dark roasted organic Indonesian coffee beans. Pack up the shaker, here's your new Espresso Martini.
Kangaroo Island Mulberry Gin
Amazing premium sloe gin, from South Australia's Kangaroo Island using hand-picked local mulberries. The berries are steeped in the Gin, then gently pressed by hands, followed by a light filtering prior bottling. Seasonal and quite rare, it won't last long on our shelves! Try serving it with a spicy ginger beer (in the likes of Capi) or in a Mulberry Gin Fizz.
Dark Matter Spiced Rum
A Scottish Rum described on the brand's website as
The taste equivalent of warping into a liquid black hole but without every atom in your body being crushed to an infinitely small point.
Hobart Distillery
A Tasmanian Single Malt from the purest ingredients including a Tasmanian grown malt barley variety known as Westminster. Their single malt whisky casks are medium charred American oak ranging in size from 20 litres to 40 litres for our first-year production. The finishing casks are mostly European oak, which previously held fortified wines.
VKL