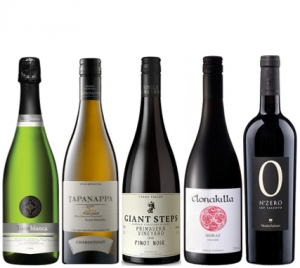 Torreblanca Cava NV
A Cava with classic notes of Macadamia, lemon, apple and waxy floral. Even though Cava producers from Spain and Catalonia can now legally use international varieties for their sparkling (such as Chardonnay and Pinot Noir) we love that Torreblanca sticks to the traditional varieties of Macabeo, Xarel.lo and Parellada. It stays 19months on lees and has 7gr/L of residual sugar from the dosage; the perfect way to start the night!
Tapanappa Tiers Vineyard Chardonnay 2017
Out of over 16,500 wines entered at the Decanter World Wine Awards2019, the 2017 Tiers Vineyard Chardonnay has been awarded a coveted Gold Medal. Now that's something South Australian maker Brian Croser can be proud of! Definitively a precious wine to either drink now (we wants it) or put down for years (hide it like Bilbo hid the ring).
Giant Steps Applejack vs Primavera Pinot Noir 2018
A couple of weeks ago we were absolutely stoked to have Steve Flamsteed coming to pour his promising new releases of Yarra Valley Pinot and Chardonnay. He explained the crucial difference between the various vineyards he pick fruits from. Applejack and Primavera were very interesting to compare. Applejack was a bit more approachable, being direct and seductive. Primavera, on the contrary, was a bit rougher, yet it was our favourite of the night! Go figure… A couple of years in the cellar will unleash the Primavera beast!
Clonakilla Shiraz Viognier 2017
What's the deal with Viognier? This once almost extinct varietal has became adulated by many.  It can produce sensational wines (see Condrieu and top Côte-Rôtie AOC) or absolute duds (which unfortunately have scared Val for the rest of her wine days)… Tim Kirk's Shiraz Viognier is of the first type, and, over the years has become a cult on its own. An absolutely divine praise to Northern Rhone's iconic Syrah co-fermented with Viognier made in Canberra. So, brothers and sisters winos don't wait until it's sold out, grab yours now.
"This is a quiet, controlled, deeply spiritual wine with a never-ending finish and a spell-binding timbre which will resonate for a decade or two with ease. It is classic Clonakilla, classic Tim, classic Shiraz / Viognier." Matthew Jukes – Top 100 Australian Wines 2019/20
Menhir Salento Negroamaro 2016
If we had to pick a winemaking region in the wine world which has changed drastically in the last decade, Puglia would be on top of the list! Located in the hills of Italy's boot, this region has been home to bulk production yet recently started producing and exporting some well made and interesting wines made from indigenous varietals such as Primitivo and Negroamaro. With this Negroamaro expect pronounced aromas and flavours of cooked black fruits, dried herbs, sweet cooking spices. A perfect wine with roasted lamb!
VKL