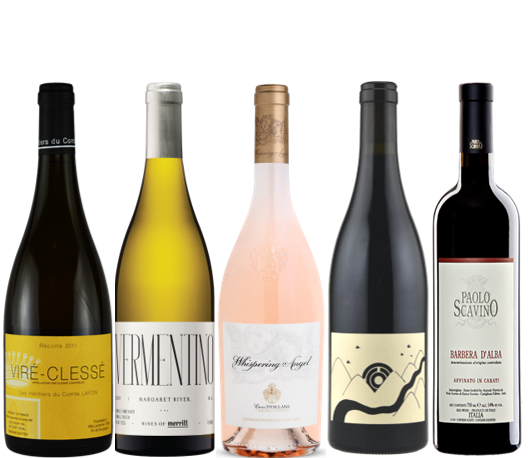 Les Héritiers du Comte Lafon Viré-Clessé 2016
A big mouthful title for a big mouthfeel wine. Welcome to Macon; the underdog of Burgundy. This is a stellar example of what the region has to offer in term of high quality, rich and delightful Chardonnay. Far from the flinty Chablis this Macon will seduce all Australian Chardonnay lovers.
Extremely limited stock.
Paolo Scavino Barbera D'Alba DOC 2016
Elegant with expressive aromatics, a high toned texture combined with harmonious yet lively acidity. Everything you expect from modern stainless steel vinified and aged Barbera d'Alba; lower tannins, medium body and perfect with Stella Deluxe's Diablo pizza.
Chateau D'Esclans Whispering Angel Rosé 2018
As French winemakers are getting ready for V19, we are carefully waiting for budburst down under, whilst drinking fancy French Rosé of course! This is a classic premium VIP French Rosé with its iconic bottle and delectable blend of Grenache, Rolle, Cinsault, Syrah and Mourvèdre.
Did you know that professing hate for Rosé leads to an angel dying of thirst?
Gentle Folk x Ochota Barrels Father's Milk Pinot Noir 2018
Since 2016, Gentle Folk and neighbours Ochota Barrels have been collaborating on a wholesome project. An intriguing Pinot Noir where all benefits will go to their respective children to fund their future project #legacy. It is indeed an intriguing Pinot Noir as it is a dry-grown German clone on half-meter cordons! So much concentration…it takes a solid tasting to unleash the layers of this wine.
Extremely limited stock.
Wines of Merritt Vermentino 2017
We had the pleasure to meet Nick James-Martin, the man behind Wines of Merritt, a small intervention and small-batch producer from Western Australia. Few months later, we still think about his funky Vermentino, a very interesting wine; complex and textural with a surprising 10.8% abv. Get into it!
VKL