An 'almost' all Aussie line-up; with the new releases from Wolf of the Willows, Hop Nation, Dainton as well as a cheeky new treat from NZ's Duncan's Brewing. Crack on!
Wolf of the Willows 'Disco of the Dead' Pink Guava Atole Sour
If you felt like you missed out on the full Halloween experience this year, then look no further. Fleshy pink guava combines with Tromba tequila and atole, a creamy cornmeal-based beverage popular in Mexico on Dia de Muertos, in a refreshing and complex sour.
Hop Nation 'Mirror Mirror' DDH Oat Cream IPA
It seems Hop Nation have drunk the DDH Oat Cream kool-aid, in doing so releasing an absolute banger. It's made with 100% oats, topped up with lactose and oat milk to really ram the message home. It's heavily hopped to provide grassy and tropical notes, finishing with assertive bitterness to cut through the richness.
Duncan's Brewing 'Creme de Peche' Milkshake IPA
Two words – peaches and cream. Milkshake IPAs are back with avengence, and it's hard to look past this concoction of delicately sour peach with lashings of lactose, packaged up with fruity hops.
Carlton 'Draught' Lager
It's a summer classic, and pours with a lacy white head. It's all about the crystal malt here, whilst Pride of Ringwood delivers a delicate old-school bitterness for perfect refreshment in the sun.
(Thanks to our honorary member Gavin for his beautiful contribution)
Dainton Brewing 'Apocalyspo' Second Wave NEIPA
It was a rare highlight of the first lockdown, so for the second time round they had to bring it back – the Apocalyspo Zombie Tiki NEIPA. It's thick and rich as all hell, peachy and coconutty, and comes in yours truly's candidate for the best can design of the year.
Something else….
Two Little Tarts Cherry & Toasted Coconut Salted Caramel Popcorn
Far and away the most difficult part of this job is the weekly taste testing so we can write the blog and recommend new products. Particularly tedious was Two Little Tarts' gourmet popcorn (which also comes in a straight salted caramel flavour) – we were very thorough, and can report that the bottom of the bag tastes equally as delicious as the top of the bag. Pimp your next picnic with this stuff and you'll be everyone's favourite bubble buddy; perhaps a cold bottle of Brimoncourt Rose!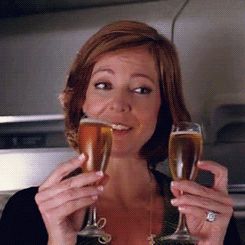 Want some?
Pop by the store or email us at glenn@decanters.com.au
Frothy regards,
Jack