This week's What Distilling brings you to a farandole of taste. We start with a corn-based vodka from Uncle Sam, then get our palate ballet dancing with an Aussie gin. We follow with a tropical Mauritius holiday in a bottle and finish with a naked nut?!
Tito's Handmade Vodka
If you have ever binged some American TV shows; you probably noticed this brand of Vodka, casually in the background or clearly used by a protagonist. Tito's Handmade Vodka is the American dream of Vodka(s). Born in Austin in 1997, this yellow corn-based vodka used to be distilled in copper pot stills in fairly small craft production. Over the years its success has lead Tito's to become a more mass-produced spirit and its sales have taken over Smirnoff and Jack Daniels in the States. Nowadays the facilities encompass te floor-to-ceilings stills and high tech equipment allowing the bottling of 500cases per hour. It is a very versatile vodka to enjoy neat or in any vodka-based cocktail of your choice. Nosferatu 'Giselle' Pavlova Gin
Double reference for this new gin from Melbourne's mysterious distillery Nosferatu. Firstly, the name: Giselle. Anna Pavlova, a worldwide famous dancer, performed the famous Giselle Ballet almost to her death…The ballet depicts the rather gloom story of a peasant girl who dies of a broken heart, after being tricked by her wealthy and powerful lover. However, like Giselle the gin, revenge is best served cold, as Giselle returns as a ghost for a 'sweet ending'. #todiefor
Secondly, the taste: a pav'. Cream, Vanilla, and meringue flavours with a toffee finish reminisce perfectly of the base of a pavlova. All you will need is some fruit to garnish! May hold on to the flakes for that one.
Beach House Gold Spiced Rum
Happy Rum day! On August 16th we celebrated the international Rum day with the new Curatif Pineapple Daiquiri (amazing) and one of our favourite Mauritian Rhum: Beach House. Their website is pure beauty too.
"The delicious aromas of spice, the feeling of sand between your toes, the turquoise waters glowing like a jewel, and sugarcane fields as far as your eyes can see – this is the magical setting in which Beach House was born. Beach House is more than a spiced rum; it's a cocktail shaker full of sunshine, friends, surf and the art of living to make you a perfect cocktail" (Beach House, 2020)
Notes of blood orange, honey and tobacco as well as Gingerbread, lime and candied ginger. Taste like a sweet and spicy tropical dream. We love this rum neat or with a very high-quality mixer such as Strangelove Ginger. Perhaps to sip whilst listening to Beach House?!
White Possum 'Naked Hazelnut'
Naked Hazelnut is a rich and decadent liqueur featuring intense nutty flavours with subtle chocolate undertones. No addition of artificial flavours or preservatives, and true to the classic Italian recipe, this liqueur is flavour packed and borderline addictive!
To make it, the team at White Possum, roasts and crushes Aussie hazelnuts (100% Victorian famed). Following the creation of this nutty paste, we would kill to try, they add organic cacao nibs to create chocolate deliciousness. The lot is then infused in spirit to slowly extract all the flavourful oils. The final step is the addition of an infusion of aromatic roots to add earthy notes. The liqueur is not filtered to preserve all the goodness.
Drink it on ice with a dash of lime juice or experiment in cocktails. White Possum suggests the following
Nutty Russian: Combine 30ml Naked Hazelnut, 60ml vodka and 30ml coffee liqueur in a tumbler with a big block of ice. Stir until very cold. Garnish with roast hazelnuts.
Hazelnut Affogato: Pour 15ml Naked Hazelnut and 30ml espresso coffee over a big scoop of vanilla gelato. Sprinkle over crushed nuts and coffee beans.
We hope you like this week's of What's Distilling, which we will finish with (surprise suprise!) a gif.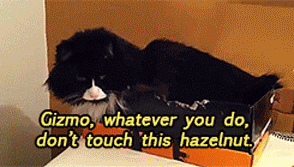 If you wish to purchase any of these come by the store or email glenn@decanters.com.au
Distilled regards,
Val